More than 250 topics covered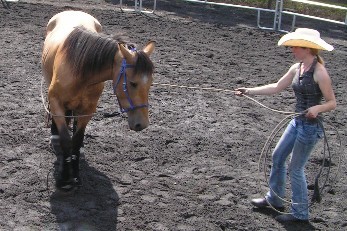 Emily trains her adopted PMU gelding. He was 3 years old and had not been handled or led.
Horses -
You will need a broke and an unbroke horse. We can assist you in finding horses for the Program. You will start the unbroke horse under saddle and teach the broke horse upper level performance work.

Class size -
There will be a maximum of about 5 students per class to allow for plenty of individual instruction and answering questions.

Length of course –
11 weeks, plus Apprenticeships

Course schedule –
Starting in spring, there will be 5 sessions, each 2 or 3 weeks long at Cedar Creek Training Stables in Millville, PA. Between sessions, you will have several weeks at home to practice before returning for the next session. Graduation will be in October.
Price –
$7975, plus recommended Apprenticeships at $649 each

Application Requirements -
We recommend you attend at least 2 Apprenticeships before applying for the Trainer Program. See Schedule for Apprenticeship dates.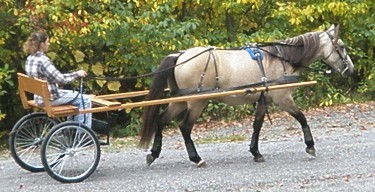 After getting her unbroke filly broke to ride, Kim also taught her to drive!


If you would like to be part of this incredible Trainer Program, contact us for more information or to attend an Apprenticeship and get started!


Photos and Testimonials from the Trainer Program


Find a Kathy Huggins Trainer


Return From Certification for Horse Training to Home