About Kathy Huggins, John Lyons Certified Trainer
| | |
| --- | --- |
| | Kathy Huggins enjoys a relaxing moment with John and Jody Lyons. |


What is it about Kathy that makes her so passionate about horse training? Well, she got hooked on horses when she took her first riding lesson at age 5, so she knows what it means to be horse crazy. In fact, her desire to see people fully enjoying their horses is part of what fueled her interest in training professionally back in 1977. She used conventional training methods then, but was eager for more horse knowledge and she felt sure there had to be a safer, easier way to train. She attended her first John Lyons Symposium in 1988 and found what she was looking for.
She expanded her knowledge by attending John's clinics and symposiums every year since then, including doing an Apprenticeship with John in 1994. In 1998 Kathy completed the John Lyons Advanced Trainer Certification Program, the last class taught by John himself, graduating in the top of her class.
Kathy has successfully trained hundreds of horses of more than 30 different breeds. Her people skills are outstanding, and she's helped countless numbers of people have fun as they learn to safely control and yes, train their own horses.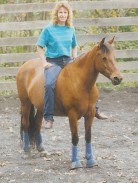 This is Kathy's Mustang who was abused and terrified of people before Kathy helped her to see people are really OK.
---
In the News
Kathy has written numerous training articles published in Perfect Horse magazine, Horse Journal and other publications.
She has recorded podcast interviews in conjunction with being featured in a Trainer Roundtable in the November 2008 issue of Perfect Horse magazine. She has participated in top-rated events such as Equine Affaire in Ohio, Horse World Expo in Pennsylvania and Maryland, Virginia Equine Extravaganza and many other equine expos.
Kathy has conducted clinics to benefit various horse rescue groups including Castaway Horse Rescue, R.E.A.S.O.N. Rescue, horse clubs, NARHA and the Pennsylvania SPCA.