Horse training isn't rocket science.
Think horse training takes years to master, daily training time and complicated cues? WRONG!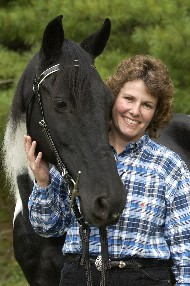 Quickly learn these simple methods with Kathy Huggins, John Lyons Certified Trainer, guiding you every step of the way. See big improvements in your horse, often faster than you thought possible.
And the best part is, it's YOU building the relationship with your horse, not some other trainer. YOU get to reap the benefits for years to come, every moment you spend with your horse. Go home after a clinic and train other horses because now you know how!
Which rider are you?
• Had a scary experience with your horse and want to regain the confidence you once had?
• Have an older, trained horse with "issues"?
• Getting back into horses after years away and want to get (re)started right?
• Bought a young or green horse you want to train yourself and you're not sure where to start and "don't want to mess him up"?
• Doing OK with your horse but want to move forward with topics such as sidepassing, tricks or advanced performance maneuvers?
We can help with these topics and more. Whether it's a green horse, Mustang or gaited horse, we've done it. And quite successfully, to hear our clients tell it.
Get training tips for free, plus different styles of clinics to suit your needs. If you want a career training or just to learn the most for your own horses, you want our Trainer Certificate Program.
Let's get started making your horse training dreams come true!
And yes, there will be pictures - lots of them - coming soon!
Practical, fun and reasonably priced horse training clinics using John Lyons' methods.
If you would like certification for horse training or a horse training career using safe, effective, John Lyons' methods, this is the program for you.
Schedule and prices for Kathy Huggins' clinics
Ready to sign up and get started? Here is what you need to do.
Frequently asked questions about apprenticeship clinics
Learn about horse training myths you didn't know existed. See how to avoid these common pitfalls and get solutions if you do find one of these myths.
Here is some stuff we like, including favorite products, services and sites we think are exceptional. We hope you like them, too.
Ready for more great training? A Refresher Clinic is just the ticket to get your training back on track.
A collection of thoughts about various horse topics and encouraging articles by Kathy and others.
LPC Espace fly spray
Training an unbroke horse can be fun. Follow the progress of Jewel, an unbroken Paint filly, as she learns to become a safe riding horse. These are photos of the real training of an unbroke horse.
There is plenty of great lodging available near Millville, PA convenient to Cedar Creek Training Stables.
When customers tell me how pleased they are, it makes my day to hear their kind words. Here are some words from our customers.
When customers tell me how pleased they are, it makes my day to hear their kind words. Here are more words from our customers.
Interesting facts about Kathy Huggins, her passion for horse training and her 30 years of experience helping horses and people.
Contact us, we'd love to hear from you!
GPS directions are great but sometimes a little help from someone familiar with the area is even better.