Lodging
There is plenty of lodging convenient to Cedar Creek Training Stables near Millville, PA.
Time Peace Inn - A real customer favorite is right next door. Keep in mind, we are in the country, so "next door" in this case means about one half mile away. There you will find the Time Peace Inn, located in a 100 year old farmhouse and run by innkeeper Lise Lund.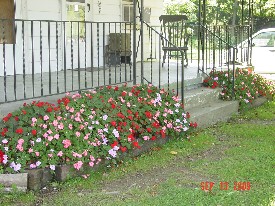 There is plenty of easy parking, 2 rooms that share a bathroom and very reasonable prices. Pets are welcome for an additional fee. After spending the day with your horse, you'll enjoy relaxing on the front porch amid flowers and a peaceful country atmosphere.


Call Lise at (570) 458-5644 for reservations.
Address: 406 Legion Road, Millville, PA 17846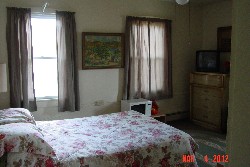 ---
---
---
Owens Farm - Stay at a working farm with hundreds of sheep, dozens of pigs, chickens, turkeys, working border collies, horses, and honeybees. Near Sunbury, PA, they are just a 30 minute drive from Cedar Creek and offer a lovely loft room for your stay. Click here for reservations. 

---
Bringing your camper? Here are some campgrounds our customers especially like.
Shady Rest - about 10 minutes from Millville, this gem is tucked among shady trees and a pretty stream.
Call (570) 458-6327 for reservations.
Address: 119 Eyersgrove Road, Millville, PA 17846
Whispering Pines - about 30 minutes from Millville, this campground features its own lake and a golf course nearby.
Call (570) 925-6810 for reservations.
Address: 1557 N. Bendertown Road, Stillwater, PA 17878
Website: www.wpce.com
---
Bringing your dog? (Sorry, Cedar Creek has no pet facilities.) The Econolodge in Buckhorn allows pets. Other hotels and campgrounds may allow pets also.
Hotels in Buckhorn are only 15 minutes from Millville and are near the Columbia Mall, numerous restaurants and a Walmart. These include:
Econolodge - (570) 387-0490
Holiday Inn Express - (570) 387-6702
Comfort Suites - (570) 387-9100
---
For more information on the above plus other nearby hotels and campgrounds click here.