Trail Horsemanship Class
Want to gain new confidence on the trail for you and your horse? Then this Trail Horsemanship Class is for you! You'll see and practice in the arena some simple, yet extremely effective techniques to make your horse safer than you could imagine.
When
Date(s) TBA -  9AM to 4PM
Taking only 6 horses.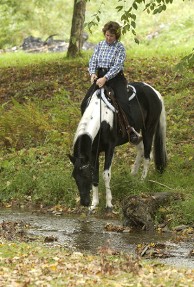 Prices
Horses and Riders - $259 with a horse
Spectators - $50 for both days. Save with a group! Pre-register 5 or more people by May 28 and save 10%!
Tentative Schedule
Saturday 9:00 – 12:00 Demonstrations, answer questions from everyone.
Saturday 1:00 – 4:00 Riders work with their horses on the ground, then riding.
Sunday 9:00 – 12:00 Review Saturday's exercises from the saddle, answer questions from riders and audience.
Sunday 1:00 – 4:00 Riders learn control in new situations, so you can succeed on the trail.
What We Expect to Cover:
- Relax and calm down on command, no matter what
- Stop runaways and bolting
- Slow down when asked
- Turn and go where asked, every time
- Stream crossing (optional)
- Much more...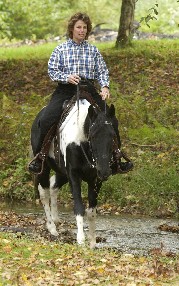 This and That
There will be space for only 6 horses to attend, so please register early!
There is plenty of room for spectators.
Everyone, please bring your lawn chair.
No rider will be pushed beyond their comfort zone, yet each rider and horse team will learn new skills leading to safer and more fun trail rides.
We provide plenty of time for spectators and riders to ask questions.
Riders must wear riding boots and hardhats while mounted.
Restrooms will be available on site as well as John Lyons and Kathy Huggins horse training books, videos, bridles and other horse products.
Lodging, Meals and Stalls
For lodging, including the nearby Time Peace Inn (very reasonably priced) please click here.

The small town of Millville has a several nice places to eat.
Some things in life are still free, like your horse's stall.


Return from Trail Horsemanship Class to Home